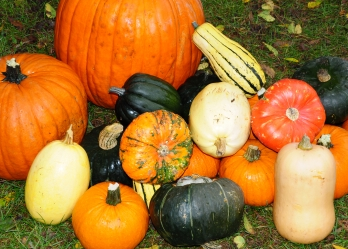 5 Wonderful Ways To Enjoy Winter Squash
Eating healthier by replacing processed products with whole foods can be challenging. How do you eat healthy without skimping on flavor? Nutrition newbies often complain they can't give up something as delicious as pasta, white potatoes and other starchy options. But, is it really the carbs they enjoy? For example, pasta by itself is bland and boring. What people actually crave is the browned butter, creamy sauces, and mouth-watering meatballs that accompany their flour-filled noodles. The flavor-boosting nutrient-dense ingredients that make pasta dishes delish are actually the whole foods encouraged in a healthy daily diet. For a healthier alternative to pasta and other insulin-spiking options, try these 5 wonderful winter squash recipes. You'll be amazed at how great these naturally sweet, beta-carotene rich options can taste.
Basic Roast Squash
Yields about 3 cups
Ingredients
2 LBS Butternut/acorn/kabocha/spaghetti squash
Instructions
Preheat oven to 375˚. Place squash whole on a rimmed baking sheet and roast for 45 minutes to 1 1/2 hours (depending on squash size) or until a knife can easily be inserted. Let cool for 10 minutes before cutting in half & removing the seeds.
Serve hot or cold with butter & seasoning.
Spaghetti Squash "Pasta"
Ingredients
1 Large Spaghetti squash
Instructions
Follow the "Basic Roast Squash" recipe above.
Use a fork to rake out the flesh into spaghetti strands.
This "pasta" is delicious straight from the oven with a pat of butter & sea salt or served with meatballs & homemade tomato sauce. Top with fresh basil & goat cheese or Parmesan for extra flavor!
Golden Herb Roasted Butternut
Ingredients
2 LBS Butternut squash, peeled, cut into 1 1/2 inch cubes
6 Medium shallots, peeled
2 TB Coconut oil
2 TSP Thyme leaves, freshly minced
Sea salt
Instructions
Preheat oven to 425˚. Spread squash & shallots in a large roasting dish. Toss with oil & seasonings.
Roast squash, shaking the pan halfway through, for about 45 minutes or until tender & golden brown.
Acorn Squash With Maple Butter
Ingredients
2 TB Pastured butter, plus more for surface
2 Medium Acorn squash
2 TSP 100% pure grade B maple syrup
1/2 TSP Cinnamon
Sea salt
Instructions
Preheat oven to 425˚. Generously butter a rimmed baking sheet.
Halve squash crosswise & scoop out seeds. Slice a small piece off bottom of each squash so it can sit evenly.
Set the halves scooped sides down & roast for 25 minutes.
 Remove squash from the oven & turn cut-side up. Use a fork to poke the flesh before dividing the remaining ingredients among the halves.
Continue to roast until fork tender & golden brown, about 30 minutes.
Creamy Butternut Squash Soup
Ingredients
2 1/2 LBS Butternut squash
2 TB Pastured butter
1 Leek, white & green parts only, sliced thin
1 TSP or more Sea salt
4 Cups Chicken stock
1 Cup Water
1 TSP Dried thyme
1/4 TSP Cayenne
Crème fraîche (optional)
Instructions
Follow the "Basic Roast Squash" recipe above.
Melt butter in a Dutch oven or large stock pot over medium heat. Add squash, leek, & sea salt. Saute, stirring occasionally, until squash begins to brown, about 10 minutes.
Add 2 cups stock & scrape the bottom of the pot to deglaze. Add remaining broth, water, thyme & cayenne. Increase heat to high & bring to simmer. Reduce heat to medium & simmer the leeks until tender, about 6 minutes.
Use an immersion blender to process the soup until creamy. Simmer & add water if a thinner consistency is desired.
Season & serve with a spoonful of crème fraîche.
Image courtesy of Bill Longshaw at FreeDigitalPhotos.net
– See more at: http://www.catesnutrition.com/5-wonderful-ways-to-enjoy-winter-squash/#sthash.keUfWMxs.dpuf
https://sncaz.com/wp-content/uploads/2012/01/Image-courtesy-of-Bill-Longshaw-at-FreeDigitalPhotos.net_-e1380173921722.png
249
348
Elementalone
https://sncaz.com/wp-content/uploads/2013/04/header_logo_large.png
Elementalone
2012-01-14 13:13:53
2013-09-26 05:46:21
5 Wonderful Ways To Enjoy Winter Squash