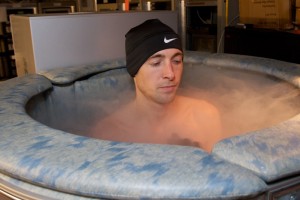 By Peter Vigneron, Runner's World
All photos by Jeff Dengate, Runner's World
Around 11 a.m. on Saturday Dathan Ritzenhein stepped into a six-foot tall metal cylinder and stood waiting while a Russian man named Alekandr Matorin filled the chamber with nitrogen vapors super-cooled to minus 275 degrees. Ritzenhein, who was naked but for compression shorts, a hat, gloves, and a pair of socks, will run the New York City Marathon on Sunday, and after a pre-race jog with coach Alberto Salazar on Saturday morning he stopped by Niketown at 57th Street and 5th Avenue for a final cryotherapy treatment before the race.
The cryosauna cools skin to 32 degrees at a depth of around half a millimeter, which gives the body a mild shock and draws its blood supply inward to the vital organs. After two-and-a-half minutes, when the sauna is finished, that blood is supposed to rush back to the muscles, full of oxygen and nutrients, and repair damaged tissue. It is a $50,000 variation on the ice bath.


"It feels like standing in front of a freezer for a really long time," Ritzenhein said, shortly after Matorin closed the cylinder door. "If you open the door on a hot day? Like that, but a lot colder."
The sauna is Salazar's newest project (he tinkers with unorthodox technologies to a degree that suggests self parody), and Ritzenhein first tried it 12 days ago. Nike purchased a unit for its Beaverton, Ore. headquarters, where Ritzenhein trains, three weeks ago, but Salazar needed a sauna on the east coast in time for the race and asked Millenium Ice, who markets the system, to drive one up from Plano, Texas. Ritzenhein's hotel wasn't sure what to make of the plan, so the sauna ended up in a cramped electrical closet on the sixth floor of Niketown in midtown Manhattan.
"In typical Nike fashion they jumped on it right away," Salazar said. "Of course, they got multiple calls from Nike risk-management lawyers. 'What does this do, who's going in it, what happens if you kill someone?' Very mild frostbite is the worst that you could get."

Ritzenhein was the first of Salazar's athletes to use the sauna, but Kara Goucher, Alan Webb, Galen Rupp, and Amy Yoder Begley have all taken a spin. Lisa Koll, in town to watch training partner Shalane Flanagan race the marathon, tried it on Friday.
Beside the cylinder, there is a large tank of liquid nitrogen and a refrigerator-sized steel rectangle that controls the system's operation. According to Matorin, it uses about as much electricity as a refrigerator, too.
Ritzenhein shuffled in circles to keep his feet moving and distribute the nitrogen, which is potentially dangerous if inhaled. The vapors are hundreds of degrees below zero when pumped into the cylinder and cold enough to freeze errant body hair in seconds.
Two-and-a-half minutes later, Ritzenhein was done. "Welcome back home," Matorin said. "The space trip is finished."
https://sncaz.com/wp-content/uploads/2013/09/picture-3-300x200.jpg
200
300
Elementalone
https://sncaz.com/wp-content/uploads/2013/04/header_logo_large.png
Elementalone
2013-09-26 06:22:43
2013-09-26 06:22:43
The Salazar Cryosauna