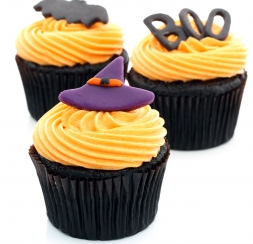 10 Tips For a Healthier Halloween
By Cate Ritter, Cate's Nutrition Kitchen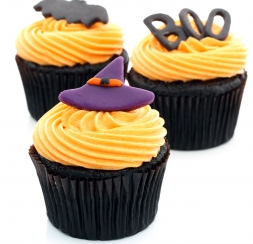 With Halloween kicking off the start of a very sugar-filled holiday season, it can be difficult to stay healthy this time of year. How do you avoid all of the harmful refined sugars and ingredients you can't pronounce without missing out on all of the fun? Finding healthier treats can be tricky. The good news is, there are healthier goodies for you to enjoy without getting sick or packing on the pounds! 10 Parenting Tricks for Healthier Treats
1. Keep it Simple Select whole food, or at least less processed ingredients. Examples include: fresh or dried fruit, packets of trail mix or nuts, honey sticks, crystallized ginger, protein powder packets (attach a recipe for a shake), dark chocolates.
2. Select Healthier Alternatives Learn to navigate food labels. Look for labels with minimal ingredients and a low sugar content (preferably less than 10 grams per serving). Examples include: mini BooBars, Boku Super Food bars, Spry gum & mints, dark chocolate & Zevia.
3. Be Creative Hand out non-edible items like funny erasers, bookmarks, action figures, gooey eyes, little green parachute men and glow bracelets.
4. Get Moving Balance the sugar binge by giving away items that promote fun outside activities related to athletics and movement. Check out places like The Dollar Store for jump ropes, footballs, frisbees, hackie sacks, bouncy balls, etc.
5. Pull a Switch Witch Teach your kids that less is more by trading 5 pieces of traditional candy (mini snickers) for 2 pieces of "healthier" indulgences (dark chocolate).
6. Hello Halloween Fairy Allow your kids to exchange their bag of candy for a toy they've been wanting or some TV time!
7. Cash For Candy Let them sell their candy to a dentist! Believe it or not, some dental practices have incorporated this fun opportunity with great results.
8. Party at Home Arrange a movie/game night with close friends. You can even make your own healthier treats together! Food ideas: "sweet blood" (red colored fizzy water with Stevia), coconut covered dates, popcorn with maple syrup & cinnamon, orange slices with date whipped cream, homemade pumpkin ice cream, etc.
9. Hay Ride or Haunted House "I scream for ice cream!" Enjoy a spooky hay ride or a scary haunted house, then go out for a treat! 10. Christmas Decor Use candy to build a gingerbread house for a lovely Christmas decoration!
Being healthy for a lifetime is all about helping your kids develop positive habits and attitudes toward food. Although many think every kid simply wants to get sugar sick on a bag full of candy, the reality is that most kids resonate long term with dressing up, scary games and the fun they have with their families. This Halloween, allow for some indulgence while creating balance as to what the real spirit of the holiday means.
See more at: http://www.catesnutrition.com/healthier-halloween-sweets-treats-2/#sthash.6oAY0TTj.T4LbRkxJ.dpuf
https://sncaz.com/wp-content/uploads/2013/10/Image-courtesy-of-YaiSirichai-at-FreeDigitalPhotos.net_.png
244
253
Elementalone
https://sncaz.com/wp-content/uploads/2013/04/header_logo_large.png
Elementalone
2013-10-09 16:09:30
2013-10-09 16:10:51
10 Tips For a Healthier Halloween